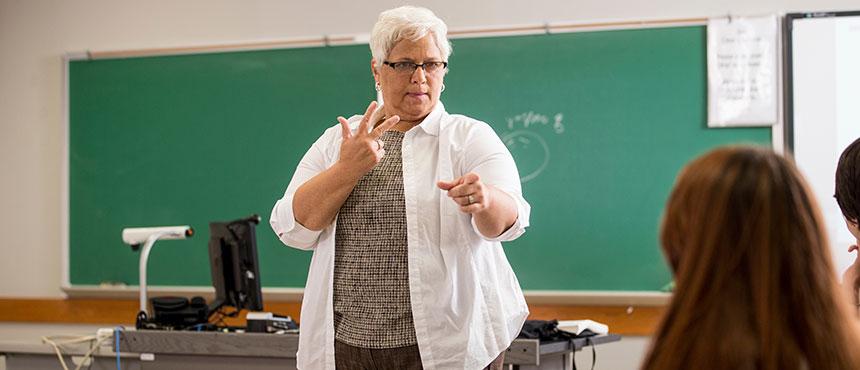 American Sign Language Education - Interpreter Education, AAS
Classes offered at following campus(es)
Sign Up For More Info
This program is designed to provide education and training for individuals seeking careers in interpreting settings. Students gain basic knowledge, skills, and values necessary to communicate and interact with deaf people. This program emphasizes the acquisition of American Sign Language, the appreciation of deaf culture and the process of interpreting and transliterating. The courses are designed to prepare the student to take interpreter certification tests and to work in entry-level positions as a teacher's assistant, substitute interpreter and/or tutor in the public schools.
General Education Requirements: 15 Hours
(Additional General Education requirements are satisfied in Specialized Course Requirements.)
Communication 3 hours
Select one course from the following:
COMM 1113 Public Speaking
COMM 2103 Interpersonal Communication
COMM 2113 Fundamentals of Listening
English 6 hours
*ENGL 1113 Composition I
and select one course from the following:
*ENGL 1213 Composition II
*ENGL 2333 Technical/Professional Writing
Social Science 6 hours
POLS 1113 American Federal Government
and select one course from the following:
HIST 1483 U.S. History 1492 to Civil War Era
HIST 1493 U.S. History Civil War Era to Present
*Course has prerequisite.
Specialized Course Requirements: 45 Hours
American Sign Language Education 17 hours
ASLE 1363 American Sign Language I
*ASLE 1373 American Sign Language II
ASLE 1413 Deaf Culture and History
*ASLE 2414 American Sign Language III
*ASLE 2524 American Sign Language IV
Interpreter Education 24 hours
INED 1423 Introduction to Interpreting
*INED 2213 ASL to English Interpreting I
*INED 2233 ASL to English Interpreting II
*INED 2393 Interpreting I
*INED 2403 Interpreting II
*INED 2443 Interpreting in Specialized Settings
*INED 2613 Interpreting III
*INED 2643 Interpreting Internship
Controlled Electives 3 hours
ENGL 1083 Grammar and Mechanics
PSYC 1113 Introduction to Psychology
PSYC 1313 Human Relations
SOCI 2113 Social Problems in America
Recommended Electives 1 hour
Select one credit hour from any discipline
Total Credit Hours: 60
*Course has prerequisite.
Workforce Development Degree Information
Workforce development degree and certificate programs are designed to prepare students for direct entry into the workforce. They may advance students within their current career positions or open doors to new career opportunities. Coursework may apply towards a degree at a four-year university; check with an advisor for further information. The number of hours that apply to a degree will vary from one university to another.
Program & Degree Info
Academic Programs

All Programs (By Career)
All Courses (A-Z)

Degree/Certificates

Associate's Degree
University Transfer Degrees
Workforce Degrees & Certificates