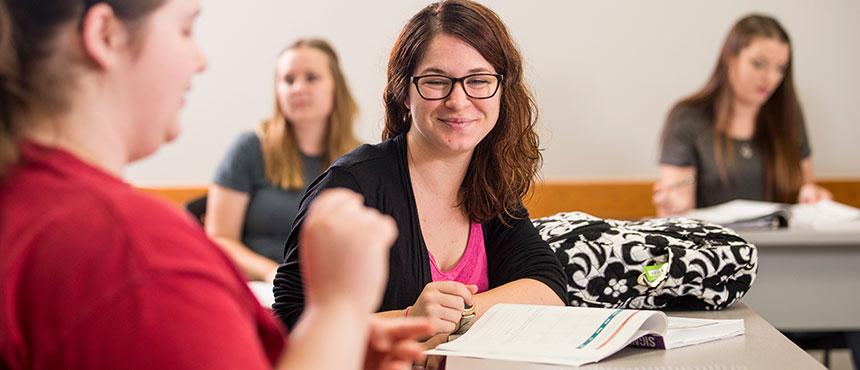 American Sign Language Education - Interpreter Education, AA
Classes offered at following campus(es)
Sign Up For More Info
The Interpreter Education option at Tulsa Community College is designed to provide education and training for individuals seeking careers in interpreting settings. Students gain basic knowledge, skills, and values necessary to communicate and interact with Deaf people. This program emphasizes the acquisition of American Sign language, the appreciation of deaf culture, the appreciation of diversity in deaf and hearing communities, and the process of interpreting. This option complements upper division coursework related to ASL interpreting at a four-year university.
General Education Requirements: 28 Hours
English 6 hours
*ENGL 1113 Composition I
*ENGL 1213 Composition II
Humanities 6 hours
HUMN 2113 Humanities I
HUMN 2223 Humanities II
Mathematics 3 hours
Select one course from the following:
*MATH 1473 Mathematics for Critical Thinking
*MATH 1513 College Algebra
Other higher level MATH course substitutions may be permitted for college transfer. Select a course that will transfer to the college/university you plan to attend.
Science 7 hours
BIOL 1114 General Biology for Non-Majors
Select three credit hours from courses that will transfer to the college/university you plan to attend. See General Education Requirements for course list.
Social Science 6 hours
POLS 1113 American Federal Government
and select one course from the following:
HIST 1483 U.S. History 1492 to Civil War Era
HIST 1493 U.S. History Civil War Era to Present
*Course has prerequisite.
Specialized Course Requirements: 41 Hours
American Sign Language Education 17 hours
ASLE 1363 American Sign Language I
*ASLE 1373 American Sign Language II
ASLE 1413 Deaf Culture and History
*ASLE 2414 American Sign Language III
*ASLE 2524 American Sign Language IV
Interpreter Education 24 hours
INED 1423 Introduction to Interpreting
*INED 2213 ASL to English Interpreting I
*INED 2233 ASL to English Interpreting II
*INED 2393 Interpreting I
*INED 2403 Interpreting II
*INED 2443 Interpreting in Specialized Settings
*INED 2613 Interpreting III
*INED 2643 Interpreting Internship
Total Credit Hours: 69
*Course has prerequisite.
To receive an AA or AS degree, students must demonstrate computer proficiency.
University Transfer Degree Information
Students should work closely with an academic advisor each semester to make certain you are enrolled in the correct courses for your degree program, especially if you are planning to transfer to a four-year college or university. Students are encouraged to begin a dialogue with their intended transfer schools as early as possible. Early coordination between TCC academic advisors and advisors from selected four-year institutions can streamline the transfer process. It is the student's responsibility to ensure that he/she understands the program/admission/transfer requirements for the transfer school.
Program & Degree Info
Academic Programs

All Programs (By Career)
All Courses (A-Z)

Degree/Certificates

Associate's Degree
University Transfer Degrees
Workforce Degrees & Certificates