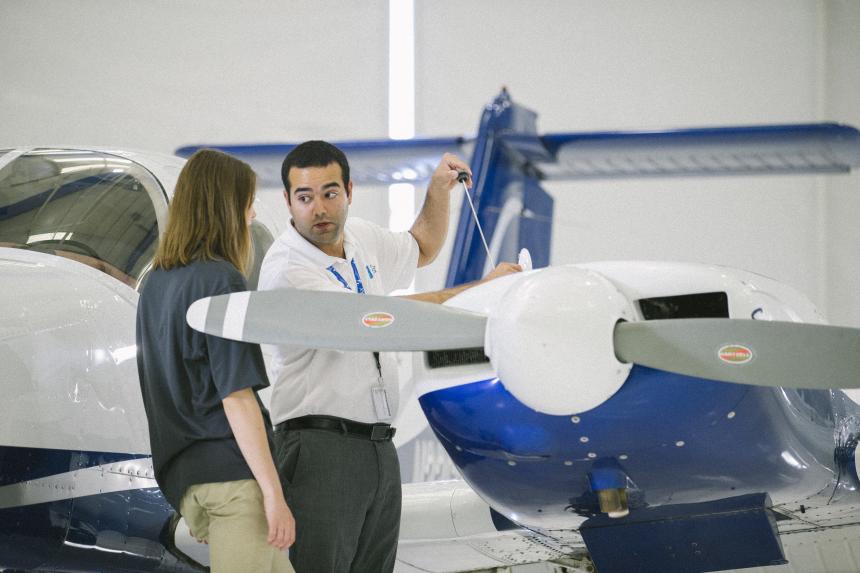 Aviation Sciences Technology - Management, AAS
Classes offered at following campus(es)
Riverside Community Campus and Aviation Center
Sign Up For More Info
If your career goal includes a role in airline operations, airline management or airport management, TCC designed its aviation management program just for you. Our curriculum focuses on the skills you will need in aviation management, including the human side of management, computer knowledge, critical thinking, cognitive and analytical skills, and communication skills. When you complete our program, you will earn an Associate in Applied Science degree.
We encourage you to consult with the TCC aviation counselor at the TCC Riverside Community Campus and Aviation Center before enrolling in the program, which was developed through a joint effort of Tulsa Community College and Oklahoma State University.
General Education Requirements: 41 Hours
Economics 3 hours
*ECON 2023 Principles of Microeconomics
Communication 9 hours
COMM 1113 Public Speaking
*ENGL 1113 Composition I
*ENGL 1213 Composition II
Geography 3 hours
GEOG 1043 Introduction to Cultural Geography
Humanities 3 hours
Select one course from the following:
HUMN 2113 Humanities I
HUMN 2223 Humanities II
PHIL 1113 Introduction to Philosophy
PHIL 1143 Introduction to Business Ethics: Business Issues
Mathematics 6 hours
*MATH 1513 College Algebra
*MATH 2193 Elementary Statistics
Psychology 3 hours
PSYC 1113 Introduction to Psychology
Sciences 8 hours
Select two courses from the following:
ASTR 1104 General Astronomy
BIOL 1114 General Biology for Non-Majors
*CHEM 1114 Principles of Chemistry
*PHYS 1114 General Physics I
Social Science 6 hours
POLS 1113 American Federal Government
and select one course from the following:
HIST 1483 U.S. History 1492 to Civil War Era
HIST 1493 U.S. History Civil War Era to Present
*Course has prerequisite.
Specialized Course Requirements: 21 Hours
Accounting 6 hours
*ACCT 2213 Financial Accounting
*ACCT 2223 Managerial Accounting
Aviation Sciences Technology 6 hours
AVST 1113 Private Pilot Ground School
AVST 2113 History of Aviation
Computer Information Systems 3 hours
CSCI 1203 Computer Concepts and Applications
Economics 3 hours
ECON 2013 Principles of Macroeconomics
Management 3 hours
MGMT 1353 Management Essentials
Total Credit Hours: 62
*Course has prerequisite.
University Transfer Degree Information
Students should work closely with an academic advisor each semester to make certain you are enrolled in the correct courses for your degree program, especially if you are planning to transfer to a four-year college or university. Students are encouraged to begin a dialogue with their intended transfer schools as early as possible. Early coordination between TCC academic advisors and advisors from selected four-year institutions can streamline the transfer process. It is the student's responsibility to ensure that he/she understands the program/admission/transfer requirements for the transfer school.
Program & Degree Info
Academic Programs

All Programs (By Career)
All Courses (A-Z)

Degree/Certificates

Associate's Degree
University Transfer Degrees
Workforce Degrees & Certificates