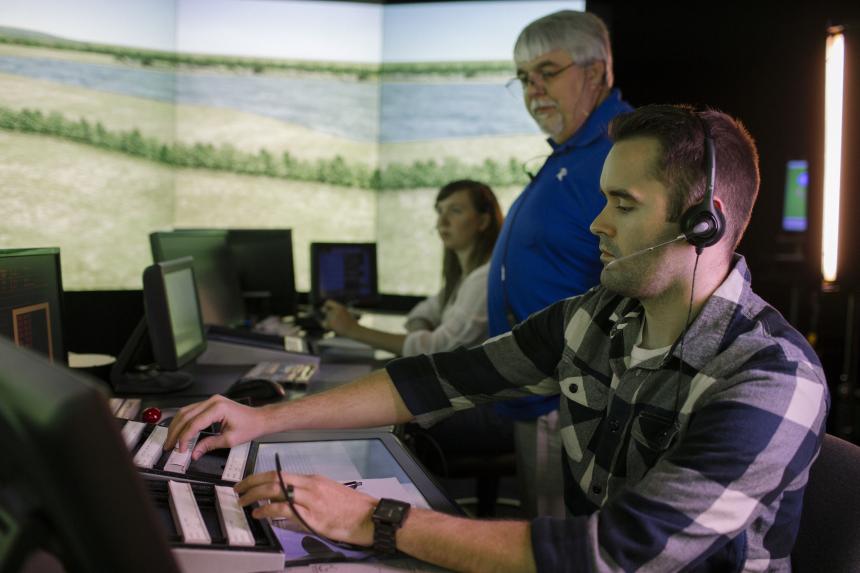 Aviation Sciences Technology - Professional Pilot
Classes offered at following campus(es)
Riverside Community Campus and Aviation Center
Sign Up For More Info
TCC's Professional Pilot program will help your aviation career take flight. Employment opportunities for professional pilots may be found with regional and major airlines, charter operations, cargo operations, agricultural flying flight schools, corporate flight departments, or with a government agency.
TCC's Aviation Center is an FAA Part 141-approved pilot training school. Our ground school and flight training provide the necessary tools to acquire a Federal Aviation Administration (FAA) Private Pilot Certificate, Instrument Rating and Commercial Certificate.
TCC's ground school courses and flight labs, along with the required general education courses, will qualify you to obtain an Associate of Applied Science degree. You may then transfer to OSU-Tulsa to complete your Bachelor of Science degree in the Professional Pilot and/or Management option. In order to receive an Associate Degree in Applied Science through the TCC program, you must complete a minimum of two flight labs with an "A" flying in TCC aircraft with TCC instructors.
Here are our procedures for enrolling in Aviation Courses:
All prospective flight students must meet with the TCC aviation counselor at the TCC Riverside Community Campus and Aviation Center located at 112 W. Beechcraft Drive, Tulsa, OK 71432, at the Richard L. Jones, Jr. Airport.
Potential flight students must provide the following documents to the aviation counselor prior to enrollment:

Proof of U.S. citizenship in form of:

An original birth certificate with raised seal documenting birth in the United States or one of its territories,
A valid, unexpired United States passport,
An original U.S. Naturalization Certificate with raised seal, Form N-550 or Form N-570,
An original certification of birth abroad, Form FS-545 or Form DS-1350, or
An original Certificate of U.S. Citizenship, Form N-560 or Form N-561.

Valid FAA Medical Certificate
Valid government issued photo identification
General Education Requirements: 37 Hours
Economics 3 hours
ECON 2023 Principles of Microeconomics
Communication 9 hours
COMM 1113 Public Speaking
*ENGL 1113 Composition I
*ENGL 1213 Composition II
Geography 3 hours
GEOG 1043 Introduction to Cultural Geography
Humanities 3 hours
Select one course from the following:
HUMN 2113 Humanities I HUMN 2223 Humanities II
PHIL 1113 Introduction to Philosophy
PHIL 1143 Introduction to Business Ethics: Business Issues
Mathematics 6 hours
*MATH 1513 College Algebra
*MATH 1613 Plane Trigonometry
Psychology 3 hours
PSYC 1113 Introduction to Psychology
Sciences 4 hours
*PHYS 1114 General Physics I
Social Science 6 hours
POLS 1113 American Federal Government
and select one course from the following:
HIST 1483 U.S. History 1492 to Civil War Era
HIST 1493 U.S. History Civil War Era to Present
*Course has prerequisite.
Specialized Course Requirements: 25 Hours
Aviation Sciences Technology 25 hours
**AVST 1113 Private Pilot Ground School
AVST 1222 Private Pilot Flight Lab
**/*AVST 1403 Advanced Theory of Flight
**AVST 2113 History of Aviation
**/*AVST 2132 Instrument Flight Lab
**AVST 2152 Multi-Engine Flight Lab
+**/*AVST 2162 Commercial Cross-Country Flight Lab
or
+*AVST 2172 Commercial Multi-Engine Cross-Country Flight Lab
+**/*AVST 2182 Commercial Flight Lab
or
+*AVST 2192 Commercial Multi-Engine Flight Lab
**/*AVST 2213 Instrument Pilot Ground School
**/*AVST 2313 Commercial Pilot Ground School
Additional Recommended Courses
(not required for degree)
**AVST 1343 Introduction to Air Traffic Control
**AVST 2253 Aviation Meteorology
**AVST 1354 Air Traffic Control Tower Operations I
Total Credit Hours: 62
*Course has prerequisite.
**May be required for an Airline Transport Pilot Certificate with Reduced Aeronautical Experience authorization. See TCC Aviation Academic Counselor for more information.
+Students choosing AVST 2162 must select AVST 2182. Students choosing AVST 2172 must select AVST 2192.
Note: All students who are not U.S. Citizens must meet all Transportation Safety Administration clearance requirements before being enrolled in the aviation courses.
University Transfer Degree Information
Students should work closely with an academic advisor each semester to make certain you are enrolled in the correct courses for your degree program, especially if you are planning to transfer to a four-year college or university. Students are encouraged to begin a dialogue with their intended transfer schools as early as possible. Early coordination between TCC academic advisors and advisors from selected four-year institutions can streamline the transfer process. It is the student's responsibility to ensure that he/she understands the program/admission/transfer requirements for the transfer school.
Program & Degree Info
Academic Programs

All Programs (By Career)
All Courses (A-Z)

Degree/Certificates

Associate's Degree
University Transfer Degrees
Workforce Degrees & Certificates